TALK TO OUR EXPERTS
Schedule a free call anytime convenient for you. Allow our experts and your personal concierge to assist you in your journey to an amazing summer.
A UNIQUE JOURNEY: SET SAIL EACH DAY TO NEW ADVENTURES ON SEA AND LAND!
A once in a lifetime adventure
Our Sea & Island Adventure Camp offers students the experience of a lifetime, as they embark on a 2-week journey doing a wide variety of activities on sea and land with a group of likeminded youngsters aboard 45-foot modern yachts, sailing around the beautiful island of Corsica.
Sailing is done by our experienced captains and crew, assisted by students. As such, students do not need any prior experience with sailing, and will gain some experience with the various skills required to pilot and maintain a sailing vessel.
Activities in the mountains, on shore and at sea
The focus of the programme is on the multitude of activities – taking place in the mountains, on shore and at sea. The vessel serves as a fun 'hop-on, hop-off' means of getting us from one breathtaking location to another for fun team challenges and exciting outdoors activities each day. It also helps us create a safe bonding place with a familial atmosphere where students can really get to know each other and the staff.
Therefore, we sail close to the shore and most of the time is spent on exciting activities on land and sea.
Hands-on experience
Accompanied by qualified experts, our students develop important leadership and life skills while enjoying a wide range of activities, excursions, games and educational workshops over the course of the trip, with new experiences every day.
This exciting trip is open to anyone aged 12 to 17 who will benefit from a very personalised approach and a purpose-designed leadership programme delivered by experienced trainers, subject experts, and sports instructors. The programme is based around measurable learning outcomes which are fully integrated and applied in all outdoor activities.
The spectacular 2-week journey begins in Porto Vecchio in Corsica and continues westwards circling the entire island before ending back in Porto Vecchio, with many stunning stops along the way at hidden bays, cliffs, mountains, a Natural Reserve, as well as visits to the historic Mediterranean towns of Calvi, Ajaccio, and Bonificio.
An amazing 2-week programme
We will have two 2-week Sea & Island Adventure Camp sessions taking place:
SESSION 1: June 29th-July 12th 2024: LIMITED PLACES
SESSION 2: July 13th-July 26th 2024: FULL
Click on the pictures below to view the programme in fullscreen.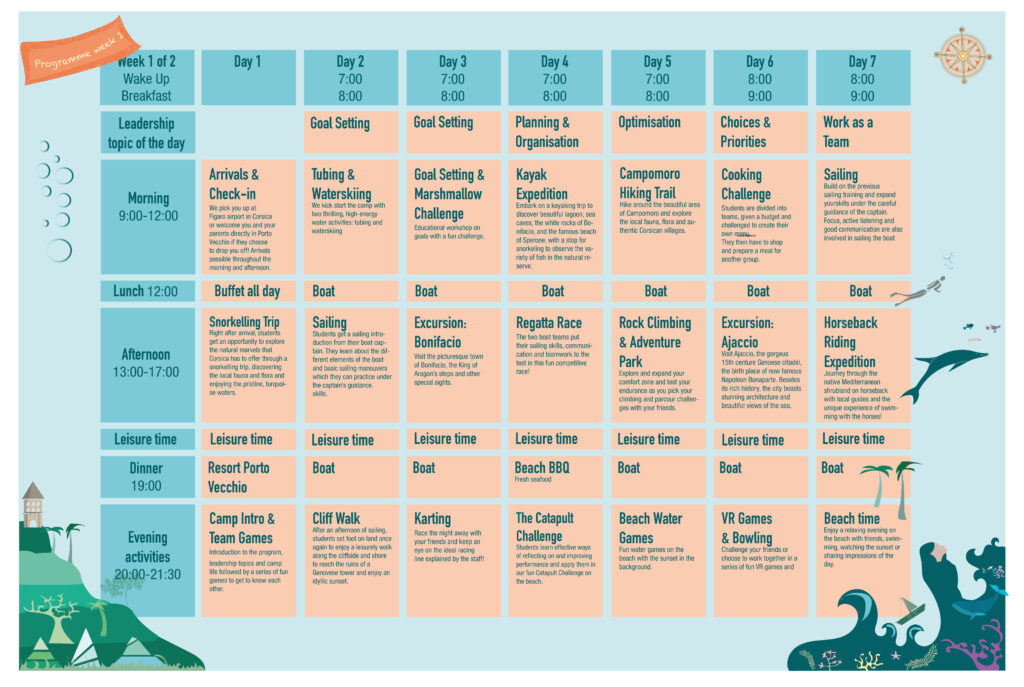 Dates
Session 1: June 29th-July 12th 2024: Limited places!
Session 2: July 13th-July 26th 2024: FULL
Ages
We welcome participants ages 12 to 17.
Arrival
We pick you up and welcome you and drop you off at Figari International Airport upon arrival and departure.
Food for all diets
We have a top onboard chef who serves European and international dishes made from fresh ingredients using the excellent boat facilities. Salad, vegetables and fruit are always available, and vegetarian, religious and any other special diets can also be catered for.
All inclusive Fee
All inclusive fee per student: Euro 7.700,-
Mandatory insurance fee: Euro 200,-
The fee is all inclusive and covers the entire Sea & Island Adventure camp programme packed with activities, as well as pick up from and drop off at Figari Airport if required.
Language at camp
The main language during camp is English and a basic day to day understanding of English is sufficient. Students will improve their language skills throughout camp in a natural way.
This camp was a dream. Sailing from one beautiful place to another to do amazing activities with amazing people. All activities challenged me daily and pushed my boundaries. I will remember this for the rest of my life as the most incredible experience ever. Thank you!
Victoria, Italy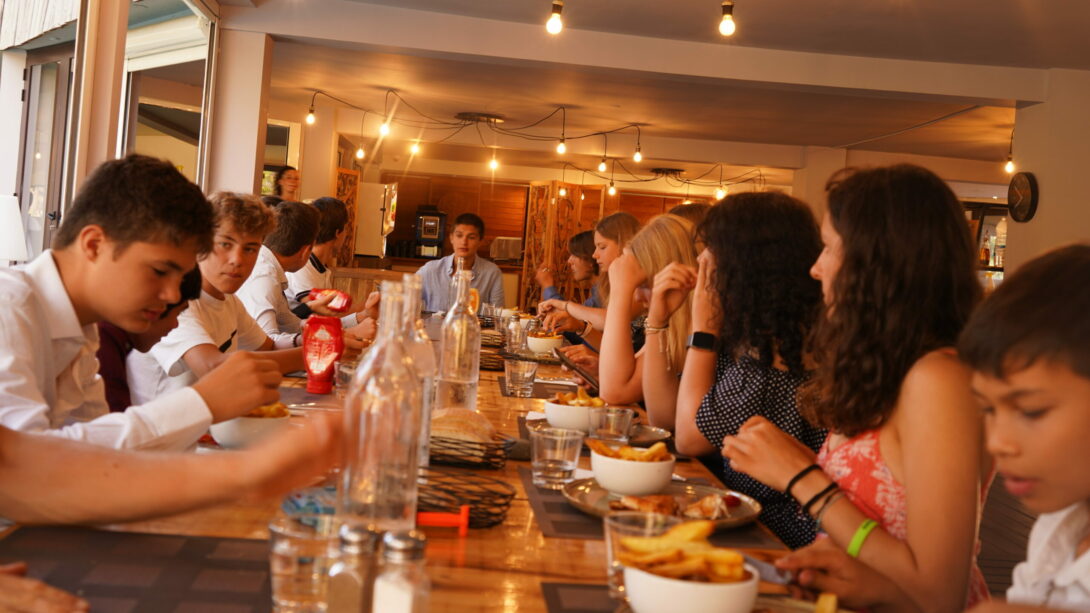 Typical day at camp
Mornings
Students wake up in their comfortable and modern ensuite bedroom shared with one other student, before enjoying a healthy and tasty breakfast prepared by our onboard chef.
An experience-rich expedition
As part of their journey around the Corsican coast, our campers get to enjoy new sights and experiences each time we reach a new location, while learning sailing and navigation techniques and participating in new activities each day.
A diverse programme
Every day, students enjoy a diversity of activities, games, excursions and workshops, both aboard the ship and on land. These are open to everyone regardless of age, fitness level or experience, and our students learn how to apply various leadership skills effectively through the activities, all under the guidance of our senior trainers.
Idyllic evenings
Before dinner, there is time for students to relax in their cabins, enjoy the warm Mediterranean sun on deck, or go for a swim in the sea. Our evenings are fun-filled with on and off boat activities like wakeboarding, games night, torch lit walks through a coastal village and roasting marshmallows at the campfire on a beach.
At the end of the day we gather together to evaluate what we have learned and look forward to the next day. In the evening or early morning, we sail further round the coast to a new location.
SILC Sea & Island Adventure Camp
Get in touch for the Sea & Island programme.
Activities on land and sea
Our Sea & Island Adventure Camp is based upon luxury yachts and our students learn how to navigate and sail. It is not just about sailing as campers enjoy a well-balanced daily programme of outdoor activities, indoor activities, games and excursions, including:
Kayaking
Rock climbing
Coasteering ("sea canyoning")
Snorkelling
Horse riding
Mountain expedition
Stand Up Paddle Boarding (SUP)
Wilderness survival training
Karting
Laser Game
Cooking workshops
Excursions to Calvi, Ajaccio and Bonifacio
And more!
Personal and Leadership Development
Our Adventure Camp programme is about having a good time, bonding with each other and creating special memories. It is also however about pushing ourselves out of our comfort zone, learning more about ourselves, and developing important leadership and life skills.
Some of the topics we focus on over the 2 weeks include:
Goal setting
Organisational skills
Communication skills
Global citizenship
Team work and team roles
Time management
Conflict management
And more!
Boat & Accommodation
Our students get to enjoy the unique experience of living and sleeping on board a luxury sailing yacht.
Overview
Luxury 45-foot modern yachts
High-standard modern facilities
Boys and girls separated by corridor or boat
Healthy, fresh and great meals for all possible diets
Ensuite bathrooms with all modern amenities
Spacious indoor living area, dining area and a large outdoor deck
Organisation & Safety
Our experienced and international team has all the expertise required to manage the camp with great care, passion, attention for detail, operational excellence and safety.
We are dedicated to upholding the highest standards for creating a wonderful learning experience and looking after the health, safety and well-being of our students. We give all the support needed to ensure students are safe, enjoy their time and perform to the best of their abilities.
Reserve without risk: no deposits and full refunds
Secure your child's place now without worrying about any financial impact as we do not ask for deposits and offer a full refund before the start of camp!
To assist you to the best of our abilities, we offer full refund in case:
1. Cancellation until 15th May 2024.
In the following case, SILC Academy will provide a partial refund:
1. Cancellation from 15th May 2024 until June 1st: 80% refund on the total camp fee
2. Cancellation from 1st June 2024 onwards: 50% refund on the total camp fee
No refund is made for cancellations as of 15th June 2024, inability to obtain an entry visa for France, a shortened stay, missed activities or workshops, withdrawal or dismissal during the camp, and in case of force majeure circumstances such as events/occurrences that are out of the control of SILC Academy such as, but not limited to, natural disasters, pandemics, airport strikes, accidents, technical difficulties, conflicts, fire, and bad weather conditions.
SILC Sea & Island Adventure Camp
Register for the Sea & Island programme. Limited places left!